Brushes come in a wide variety of styles, sizes, weights, and stiffness. Handle shapes and positions vary with most positioned straight up from the bristles or at a right angle to the brush. Some workers use brooms, such as a push broom, with the entire or a portion of the handle cut-off.
The type of grip used varies depending on the handle shape and the way the brush is being held. In photo 1, for example, the brush is being held with a power grip.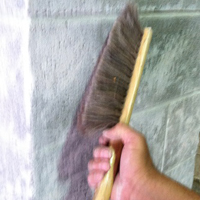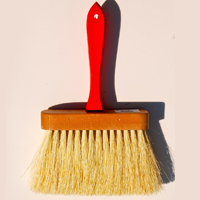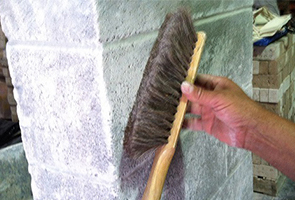 A brush with a narrow handle (photo 2), or when part of a brush other than the handle is held, will require more of a precision grip or a modified power grip (photo 3) and greater grip strength. Depending on the shape of the handle and the task being performed a worker may have to work with their wrist bent, which will also increase the grip strength needed.
Selecting the right brush depends on the type of work being performed, but the handle size depends on your hand measurements and how you hold and use the brush.