Jointers, Ornamental & Other Narrow Handle Tools
Jointers (photo 1), beaders, slickers, rakers (photo 2), and plaster tools (such as ornamental leaf and square tools – photo 3) are different tools and used for different purposes, but there are common features that influence the way they are held.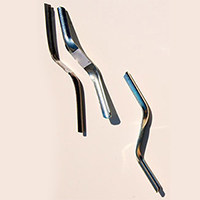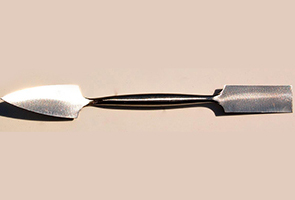 These tools tend to have narrow flat or rounded metal handle areas or handles that require a precision or "pinch grip" using the thumb and finger tips or a modified power grip with some pinching. Using a pinch grip requires much more force and is much more tiring than using a power grip. In addition, the handles or handle areas tend to be short, which can put pressure on the palm of the hand and/or add pressure to the joints of the fingers. When used with a modified power grip, the handles tend to be too small for most hands. Narrow or sharp edges and seams can lead to cuts and skin irritation. These tools are also typically made completely out of metal, which conducts cold and contributes to a worker's discomfort when using the tools.