Flat Trowels vary in length and width and have a metal blade (photo 1). Floats also vary in length and width and are made out of different materials including wood, stainless steel, and molded rubber (photo 2). Although these two tool categories are used for different purposes, the location of the handle is similar and influences the way the tool is used.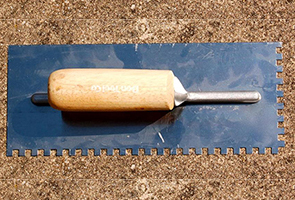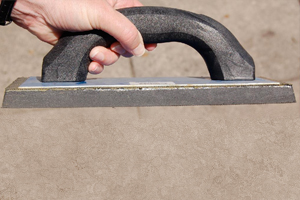 Both have handles positioned on top of the blade that can cause pressure on the palm and increase the need to bend the wrist to perform work. Working with your wrist bent while putting downward pressure on the palm of your hand can lead to numbness or pain in your hand.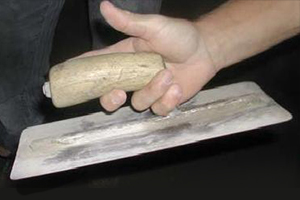 Overreaching either out in front of you or above your head can lead to hand, wrist, and arm strains. In addition, users of flat trowels that hold them from the stem (or shank - see photo 3), create pressure on the base of their palm near the carpal tunnel, increasing their risk for carpal tunnel syndrome.